On trend: capes and ponchos
October 4, 2012
Somewhere in the past couple of fall seasons the poncho and the cape reemerged. How this happened I'm not even sure. I'm liking the hybrids out there like the one above by MICHAEL Michael Kors for $175.  The knit gives it a softer drape so it isn't too overwhelming and the leather & gold toggle closures add some rich detail.  Right now sweaters are all about texture–found in the yarn like the marled version above, in the knit with mixed stitches and in the details like those toggles. I can imagine wearing this often, as a sweater coat at first, then on colder days as my cozy go-to.
If you're not sure about investing in this trend, try an inexpensive, good-looking version from Target for $29.99 :
The cape as a coat is a fine idea.  The military-inspired version below is from Anthropologie $198. and since this is an outerwear piece it is one way to wear the trend without having to wear it all day.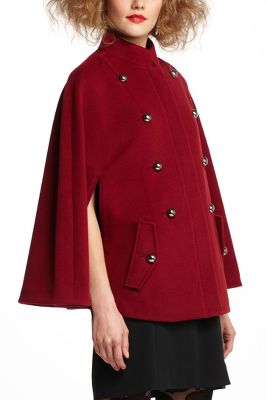 For a pop of pattern I like this oversized chevron in navy and charcoal from Anne Klein at Macy's $229.
Who's to say how I'll end up going for this trend- in sweater or coat form- or if I will at all.  As a petite gal this is one style that can't be even slightly out of proportion for me or I'll be swallowed up in wool, but I've got to say I'm intrigued and the right one just might float my boat. Are you wearing a cape or poncho this season?